On-Demand Video: 4+ Hours

Lectures: 20

Enrolled adults: 7,429
This course includes:
4+ hours on-demand video

20 lectures

Powerful "3 Phase" structure

Full lifetime access

Access on all devices
30-Day Money Back Guarantee
"Imagine Playing Freely Like This???"

Imagine Sounding Like This?
Here's what you're getting...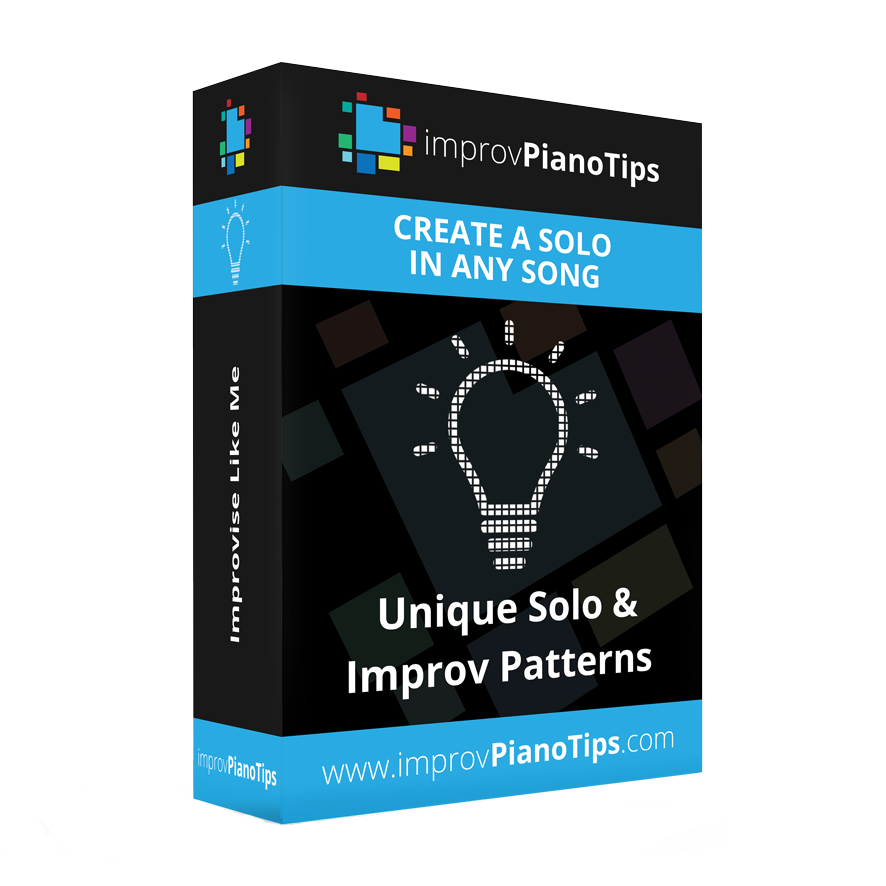 MASTER MY PROVEN APPROACH TO SOLOING & IMPROVISING FREELY
The key is a blend of memorizing patterns + polyrhythm phrasing + left hand rhythm activation. My unique methods which you won't find anywhere else are broken into six detailed solo & improv videos with over 300 minute of pure soloing and improv exercise tutorials and application videos!

"Solo & Improvise Like Me" is handcrafted to develop a specific sound in mind. You'll be able to memorize eight unique patterns that start at the beginner level and gradually bring you to a HIGH LEVEL of FLOWING. You'll be able to take those patters with you anytime you sit down to play.
(OR FREE WITH AN IMPROVPIANOTIPS MEMBERSHIP)
30 Day Money Back Guarantee
Payment Plan Available

But,
Before we get ahead of ourselves...
Who Am I & Why Should You Even Be Listening To Me?
Nice to meet you! My name is Nik!

I'm a piano teacher with a Civil Engineering degree (just in case I couldn't do music for a living).

I'm also a YouTuber, Church pianist, twin Dad and husband of 6 years to my sweet Lily.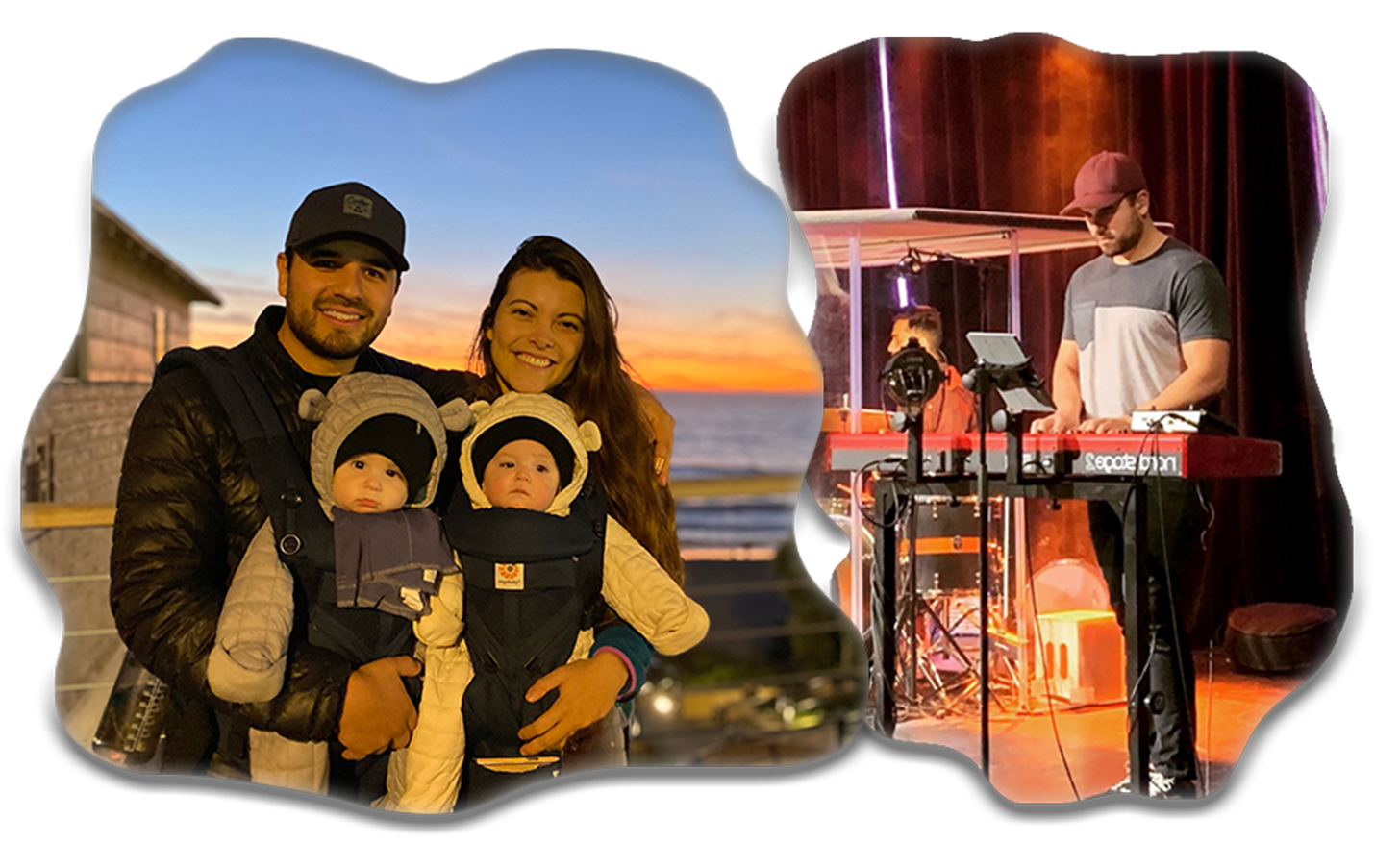 Since early high school, I've been teaching adults how flow, improvise and play freely on the piano. In fact, the way I've gotten 237,000+ subscribers and 18 MILLION views on YouTube...


And over 23,174 enrolled students on my website is...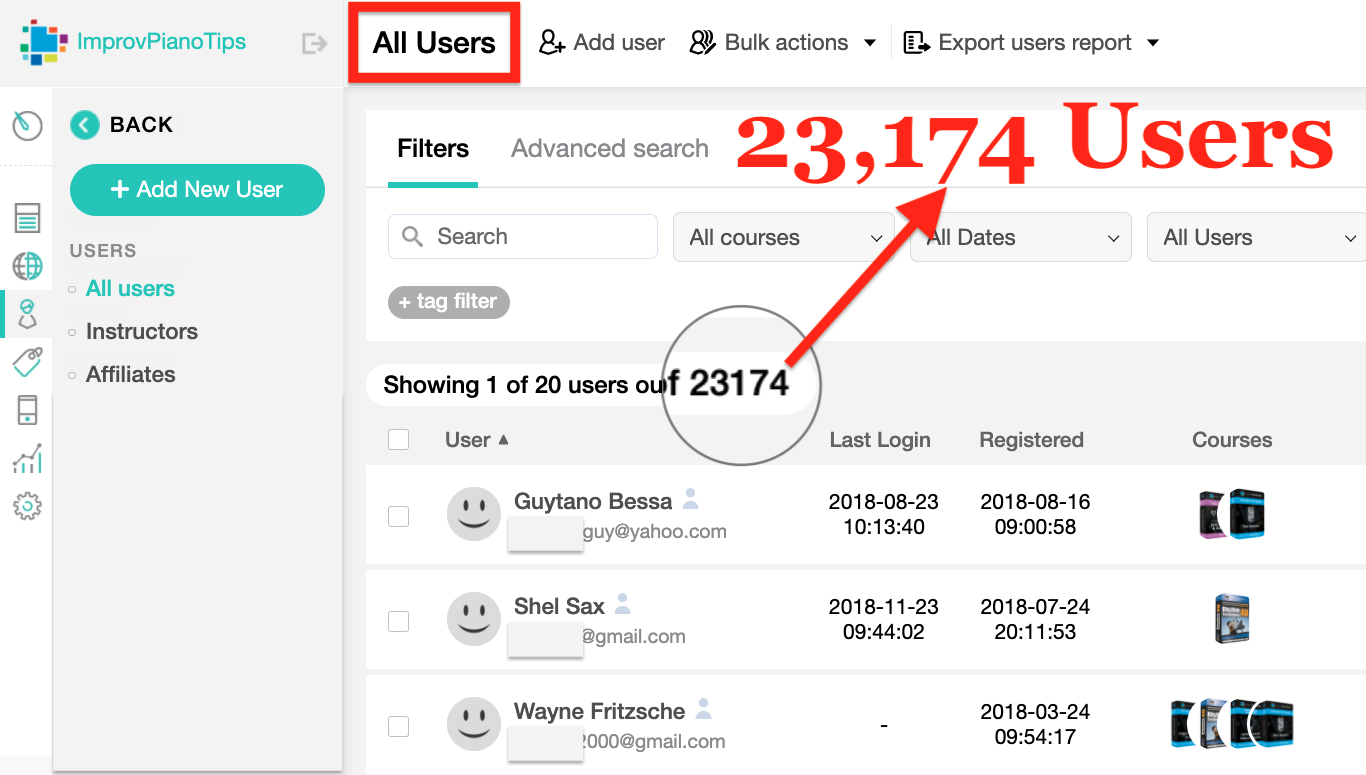 ...through my unique FOCUS on coordination, simple syncopation, soloing patterns and chord voicing to embellish your playing.


And after selling my online course for 11 years, teaching my personal adult students, thousands online, playing in Church, and writing music professionally, I realized something...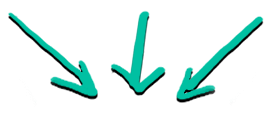 The Answer?

To Break Away From The Same Stiff, No Flow Way You Play, You Need To Learn Simple Patterns,

And Spend Time Actually Applying It To Songs You Know...



So Here's What I've Put Together For You...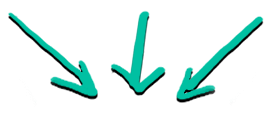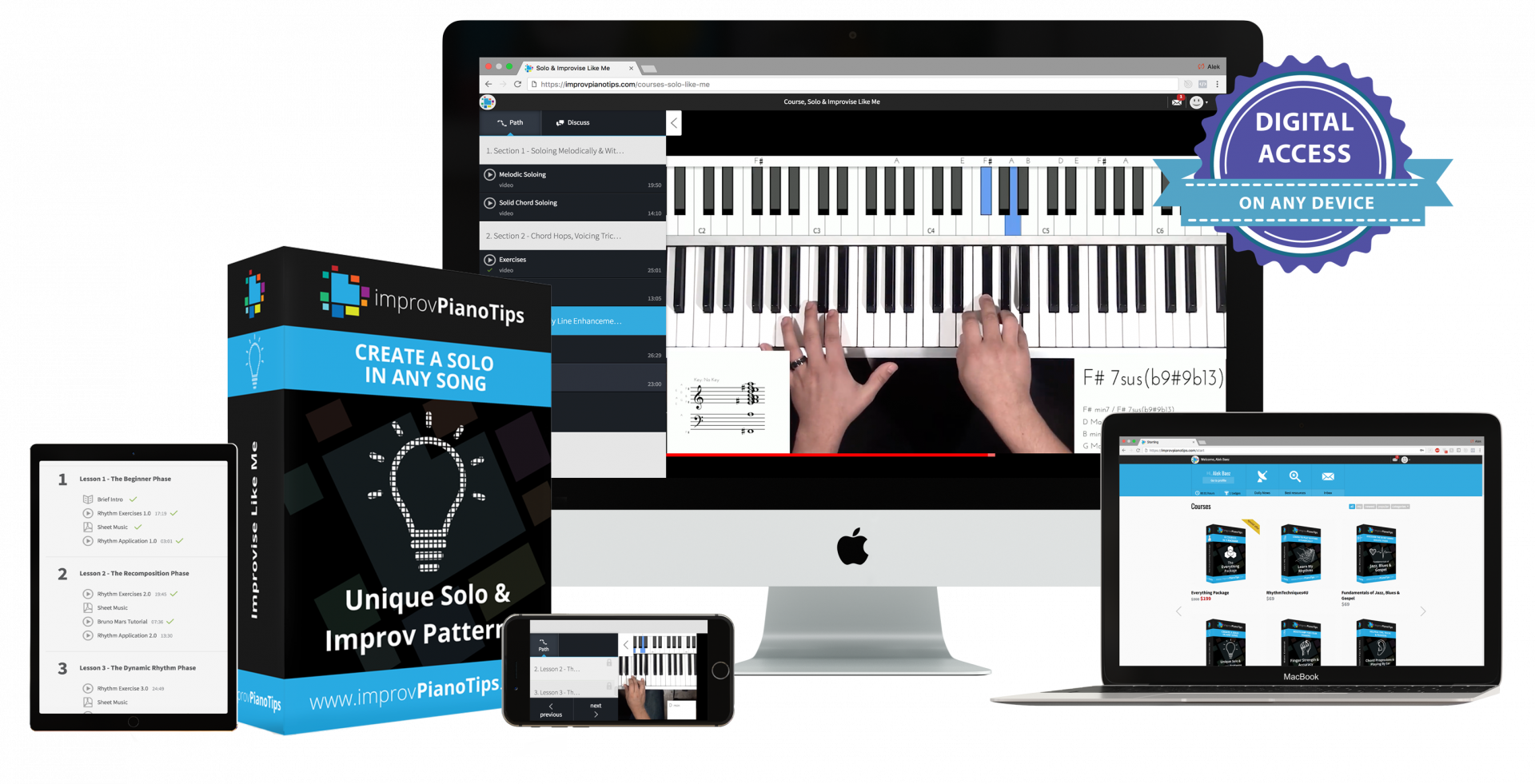 (OR FREE WITH AN IMPROVPIANOTIPS MEMBERSHIP)
30 Day Money Back Guarantee
Payment Plan Available
"Well structured and easy to follow"
Jim Clough
"Nik knows his stuff and presents in a clear/precise way"
Greg Malcolm
"Best money I've spent in a long time"
Rhodri Jenkins
"My improv has developed amazingly"
Piet Coetzee
"There is no question left unanswered. I love the good structure of the course and that everything builds on one another."
Charlotte Eva
VERIFIED REVIEW
"Nik opened the whole world of being able to play nearly any song I want. Everything Nik offers is 100% approved knowledge which anybody can master."
Alexander Jnz
VERIFIED REVIEW
"He teaches rhythm in a completely different way...and I told him, I think you're the Tony Horton, the p90X of piano..."
SCOTT MARTIN
member since 2019
"...and even in such a short space of time (2 weeks), my piano playing is already improving hugely with the help of some fantastic individual tips from Nik! I'm finally understanding how to really play. Best money I've spent in a long time."
RHODRI JENKINS
member since 2018
ALEXANDER JNZ
member since 2019
"With his courses Nik opened my eyes to the whole world of being able to play nearly any song I want. Especially the RhythmTechniques4U course is still a breakthrough on my way to learn more and more. Everything Nik offers is 100% approved knowledge which anybody can master. His way to teach is on point. Best spend money! Thanks to be with you on a journey.

...once again Nik - YOU are the light-bulb. You gave me the ability to express myself at the piano - being able to sit down at the piano and play whatever I want."
"This is a powerful rhythms course and overall approach that got me results."
MATT HEGLUND
member since 2020
IRENE ROSENFELD
member since 2017
"I love your sound! I love your concept of dynamic rhythm and melodic soloing. Those two concepts, I find just liberating as tools and you have a unique way of explaining what you're doing, in simple terms and you are patient."
ALEXANDER GOL
member since 2015
"Hello from Tallinn, Estonia...Here is my version of Lewis Capaldi - Someone you loved. Thanks for the courses Nik. I went through them several times over the past few years always coming back to find something what I missed. It has been 3 years since I started to play and now the music really rewards me. Thanks a lot!"
JASEN AURA
member since 2021
"Nik teaches real piano knowledge for modern rock, pop and gospel songs. I have enrolled in 5 other courses prior to this one. And most of them have very long drawn out modules and outdated methods that everyone else teaches. And I still couldn't play well with 2 hands until I took this course. I'm very happy with this course!"
OKE ALEX
member since 2020
"Such a fantastic and welcoming community!"
AARON LAMB
member since 2018
"Hi, so I watched the entire course and I definitely believe that God has lead me to you. I tried out the rhythm course as well as the one that teaches you about passing cords and what not. Thank you for everything! Unreal progress here on my end!"

Victor R. Scott
member since 2017
"Just wanted to reach out and say thank you. I really like the way you taught piano on YouTube and the two things that stood out to me are, one, you had a simple approach to playing piano and a way that made sense to me...and two, how accessible you are as a teacher. It's been very helpful! Thank you!"

Stefan Lanfer
member since 2020
"Totally helped me break through a 20+ year plateau. Really enjoy how Nik guides into deeper understanding and greater skill and depth and facility at the keys.

Bite-size lessons and supper accessible teaching style. Feels like Nik's in the room with you - encouraging and challenging you. You pick up new things on the first go. Then can go back in again and again to really get it and go far."

Derek Lynch
member since 2016
"I enrolled in the course, and took piano lessons + played in a band many years ago and stopped. When I wanted to get back into playing again, I was looking for a course that would help me improve quickly and add some soul to my playing.

I'm really finding that Nik's combination of online courses plus coaching is perfect for me - and one of the side benefits is that I'm learning to play by ear. I've always been a slave to sheet music and I'm finding it so much more freeing and fun to playing by ear.

Anyways, if you're a come-back player like me, or you're brand new and always wanted to play piano, check it out!"

Manuel Alvarez
member since 2018
"Excellent courses. Well structured and easy to follow. Nik is a great instructor."

Christy Darlington
member since 2015
"I love your programs. I purchased the membership package last week and have spent several hours working through it. Having had 10 years of Classical training and a few years of playing at church, I'm learning more than I ever learned when I was taking lessons. Your courses are the best!"
Charolette Eva
member since 2021
"I am impressed by this teacher's passion for piano playing. Learning is conveyed with joy. There is no question left unanswered.
I love the good structure of the course and that everything builds on one another.

No matter how you play, Nik will take this to the next level. I am happy to be there. Since I've been part of the piano community I've made great strides in understanding and playing. Thanks for that. ❤️
"
Kevin Lufkin
member since 2018
"Hey Nik Nuñez , wanted to let you know that I performed the piece for her! I set it up as a surprise at our new home after getting back from our wedding night. She loved it! I definitely choked up a fair bit in the beginning haha, but was then able to get through the rest of it. I don't have a recording to share, my apologies.
Thank you so much for all of your help!! This was a real gift.
"
Beresa L.
member since 2019
"From someone who has not played without music in front of her since age 17 at my senior recital I memorized 'etude in D' by Franz Litz(?) to this!!!!
Nik is a fabulous teacher!!!!!
"
Todd Roberts
member since 2021
"I have been waiting all my life for a teacher like Nik. I had just about given up looking and voila, the internet found him for me. If you question whether it is the right course for you, question no more and sign up. He is not only super talented but I could tell by his playing in just a few bars that he was the answer to my musical prayers. I hope my journey helps me to play as well as Nik.
He has taught me so much in 10 days about music that 10 teachers over 65 years never told me.
If you are just starting, Nik would be the best teacher you could learn from.
"
Advanced Ideas Include:
• Gospel Licks & Runs
• Melodic Soloing
• Full Right Hand Melodies
• Chord Voicing
• Creating Chord Progressions
• Jazz & Blues Piano
• Comping & Supporting a Singer